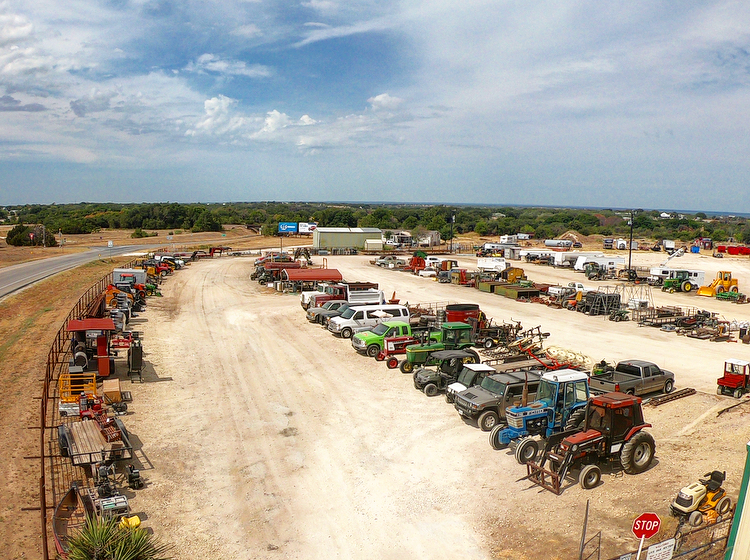 Zephyr Estate Auction

13401 CR 291
Zephyr, TX 76890
Preview is Friday and auction starts at 10 am on Saturday!
Absolute farm sale only, no consignments! We will have pictures and the address updated sale week. Cash or check ONLY. Preview will be Friday April 29th from 9am-6pm. Bring a trailer because everything needs to be removed sale day
Here are a few items we know for sure will be in the auction
John Deere 6115D MFWD W563 Loader 3500 HRS
John Deere 4430 with KD Loader 8185 HRS
John Deere 2030 with 148 Loader 4800 HRS
Ford 801 LPG non running
2004 Ford F450 Super Duty Diesel, auto trans, 2WD
2004 Diamond T 32' Tandem Dual Flatbed GN
2018 Like New Titan 5x14 Stock Trailer
16' Utility Trailer
Shopmade Tandem Axle Dump Trailer
John Deere 468 Megawide Plus Round baler with wrap, approx. 9000 bales
Vermeer Rebel TM800 Trailed Mower
Vermeer 840 Mower Conditioner
Angle Blade
Hay Fork
Rhino SE8A 3PT 8' Shredder
10 Wheel Hay Rake
Sun Flower 1211, 12' double offset
John Deere DR8 20x8 Grain Drill
Powder River Calf Cradle
Arco Portable Welder
John Deere Gas Air Compressor
Craftsman Rolling Toolbox
Miller Spectrum 625 Plasma Cutter
Two Sets of Cutting Torches with Bottles
Rolling Afram
Porta Cool
Pressure Washer
Parts Washer
5000 Gal Steel Tank
2500 Gal Black Poly Tank
Fuel Trailer
250 Gal LPG Tank
Assorted Pipe, tin and pipe rack
Wagon wheels and lots more
Farm-Ranch-Construction Equipment Consignment Auction
Saturday June 4th, 2022
111 US HWY 84 West - Goldthwaite, Texas
Auction starts at 9:00 a.m.
Limited amount of small items accepted.
$25.00 minimum commission charge per item.
All items are unloaded by forklift so please plan your loads accordingly. All loading and unloading by forklift only so plan accordingly.
Onsite and online bidding. Online bidding available thru Proxibid.
Onsite buyers premium 3%, online buyers premium 7%
Check us out at Liveoak-auction.com
Photos added as items arrive so check back often.
2022 Upcoming Auctions
Zephyr Estate April 30th
June 4th
September 3rd
December 3rd
Auctions will be held approximately every six to seven weeks.
New commission rates effective June 1, 2019
All items $250.00 and under ---- 25%
There will be a minimum charge of $25.00 per lot .
Items selling for $ 251.00 and above --- 10%
$25.00 NO SALE fee per item
$25.00 Check in fee on Titled & License Receipt items. Title or License Receipt must be with item at check in. We do not offer motor vehicles for auction without a valid – transferable title. We reserve the right to hold sales proceeds until title work is correct or hold the item out of the auction. YOU CAN NOT BRING IN TITLES OR LICENSE RECIEPTS AUCTION DAY.
$25.00 Buyer fee on titled and license receipt items. Titles will be mailed to address provided upon registration. If you don't provide a good mailing address expect delays in getting your paper work. Titles are generally mailed out within 14 days after the auction.
$25.00 per day per item storage fee on purchases not picked up by 5:00 Friday following auction unless arrangements are made with Glen or Chase. Office staff and load out crew can not make these arrangements. Items left from previous sales will be re tagged and sold to highest bidder.
WE DO NOT PROVIDE PRICE PROTECTION. IT IS THE CONSIGNOR'S RESPONSIBILITY TO REPRESENT THEIR ITEMS.
CONSIGNOR CHECKS ARE AVAILABLE FOR PICK UP AFTER 1:00 PM FRIDAY AFTER AUCTION. CHECKS NOT PICKED UP FRIDAY WILL BE MAILED THAT EVENING.
ALL ITEMS CHECKED IN AND PLACED ON THE LOT MUST GO THROUGH THE AUCTION. ITEMS MAY NOT BE WITHDRAWN AFTER CONSIGNED AND CHECKED IN.
Thank you for your continued support and business!