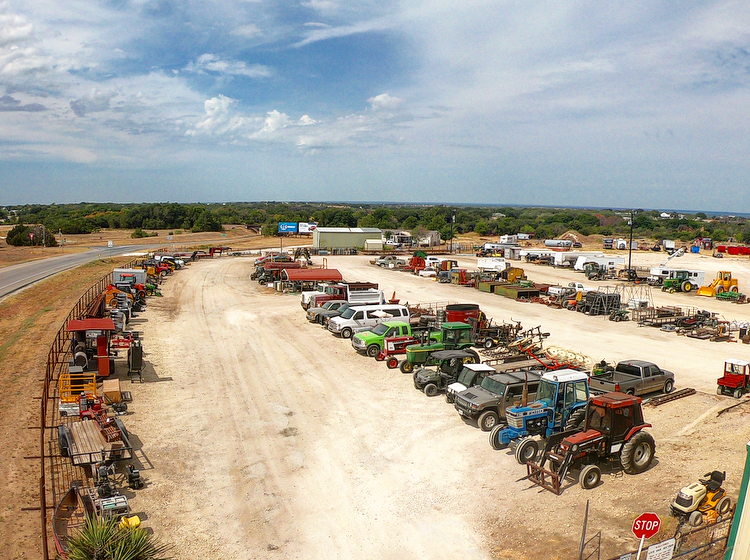 Farm-Ranch-Construction Equipment Consignment Auction
Saturday February 8th, 2020
10:00 a.m.
111 US HWY 84 W
Goldthwaite, TX 76844
Early consignments include: Ford TW 30, JD 5303 w/loader, MF1533 w/ loader, MF 65, MF 50 w/ loader and more tractors coming. Case 721F wheel loader, Kubota SV 95, Cat 239D tracked skid loaders, two Cat236D & Case SV 280 skid loaders with cab/air, 2000 IH 14 yd. dump, Yale 6000# forklift, scissor lifts, tow behind man lift, Hyster diesel flat wheel roller and more.
Implements including: UFT 10' no till drill w/fluffy seed box, Bermuda king 4 row & 2 older 2 row spriggers, Bermuda King sprig digger, Miller 4 bar 12' offset, JD 8300 & 8250 grain drills, Roto Grind tub grinder, BJM mixer trailer and several small 3 pt implements.
Lots of nice new and used trailers. Including new Delco 40' & 34' tandem dual hyd. tails, 25' tandem axle with mega ramps, GN & BP dumps, Falcon firefighting trailer, GN concession trailer, 2019 Neckover 6'8 x 36, new Delco 6'8 x 24, Neckover 7 x 28, Delco 16' ½ top bp, Bruton 20' and other stock trailers.
Several good ranch trucks including 2012 Dodge 3500 diesel 4 wd 4 dr. w/ hay bed, 2006 Dodge 2500 diesel 4 wd 4dr. w/ hay bed, 99 Ford 4 wd gas w/ Deweze bed & trip hopper, 01 Chevy 2500 gas 4 wd, older Dodge service truck, 05 F150 & 05 Chevy 1500 pickups, 04 Ford E450 gas 16 passenger van.
ATV'S including 2017 JD 855D S4 diesel Gator, 2018 JD 825 reg cab, 2018 Arctic Cat 4 wheeler with 38 hours, Kubota RTV 900 diesel. Along with several late model, older Polaris Rangers crew cabs and regular cabs, more to come.
Other items including Hobart Champion welder on trailer, lots of new/used skid steer attachments, new Norstar arm hay bed for 1 ton, several free standing cattle panels, lots of pipe, new fence wire, new T post, 20" & 40' storage containers and lots more by auction time.
Your consignments of quality items welcomed. Remember when you sell with Live Oak your items are offered both onsite and online with Proxibid.
Upcoming Auctions
February 8th, 2020
March 28th, 2020
May 16th, 2020
June 27th, 2020
August 8th, 2020
September 26th, 2020
November 21th, 2020
Auctions will be held approximately every six to seven weeks.
New commission rates effective June 1, 2019
All items $250.00 and under ---- 25%
There will be a minimum charge of $25.00 per lot .
Items selling for $ 251.00 and above --- 10%
$25.00 NO SALE fee per item
$25.00 Check in fee on Titled & License Receipt items. Title or License Receipt must be with item at check in. We do not offer motor vehicles for auction without a valid – transferable title. We reserve the right to hold sales proceeds until title work is correct or hold the item out of the auction. YOU CAN NOT BRING IN TITLES OR LICENSE RECIEPTS AUCTION DAY.
$25.00 Buyer fee on titled and license receipt items. Titles will be mailed to address provided upon registration. If you don't provide a good mailing address expect delays in getting your paper work. Titles are generally mailed out within 14 days after the auction.
$25.00 per day per item storage fee on purchases not picked up by 5:00 Friday following auction unless arrangements are made with Glen or Chase. Office staff and load out crew can not make these arrangements. Items left from previous sales will be re tagged and sold to highest bidder.
WE DO NOT PROVIDE PRICE PROTECTION. IT IS THE CONSIGNOR'S RESPONSIBILITY TO REPRESENT THEIR ITEMS.
CONSIGNOR CHECKS ARE AVAILABLE FOR PICK UP AFTER 1:00 PM WEDNESDAY AFTER AUCTION. CHECKS NOT PICKED UP WEDNESDAY WILL BE MAILED THURSDAY.
ALL ITEMS CHECKED IN AND PLACED ON THE LOT MUST GO THROUGH THE AUCTION. ITEMS MAY NOT BE WITHDRAWN AFTER CONSIGNED AND CHECKED IN.
Thank you for your continued support and business!