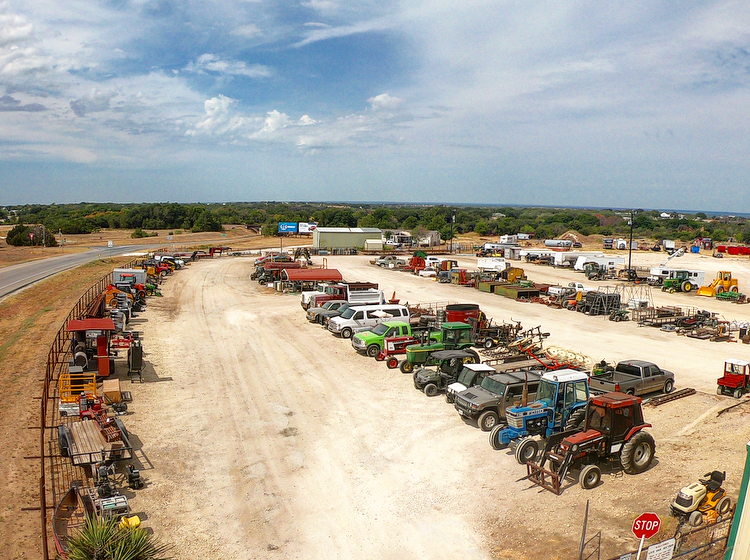 Farm-Ranch-Construction Equipment Consignment Auction
Saturday May 16, 2020
111 US HWY 84 West - Goldthwaite, Texas
Auction starts at 10:00 a.m.
We are taking consignments of quality items. Unloading available 9 to 12 and 1:30 to 5:30 Monday thru Friday. All items must be in place by Tuesday May 12 at 5:30 p.m.
Limited amount of small items accepted.
$25.00 minimum commission charge per item.
All items are unloaded by forklift so please plan your loads accordingly. We will be glad to load or unload your items for you while you remain in your vehicle. All loading and unloading by forklift only so plan accordingly.
Early consignments include tractors, motor grader, skid steers, scissor lifts, implements, skid steer attachments, pick ups, trucks, trailers of all types, lots of good ATV'S and lots more.
Also cattle panels, pipe, fence building supplies, storage containers, welders, new trailer tires and lots lots more.
At this time we plan to have this auction live in person as well as online thru Proxibid. In the event we are not allowed to have in person attendance we will have the auction online. Please go to Proxibid and get registered and signed up to bid at least 48 hours before auction starts.
We will also be taking phone bids and prebids.
We are reducing the online buyers premium to 2% as long as the virus situation hangs around.
Also all phone bids will be subject to the 2% buyers premium.
As always there is no onsite buyers premium as well as no buyers premium for prebids.
The lot will be open for inspection of items all week of the auction. We ask that as long as the current government declarations are in place that you do not come in the office, that you remain in your vehicle to the extent possible and that you keep at least 6' space from others. IF YOU ARE SICK, HAVE TESTED POSITIVE OR HAVE HAD EXPOSURE TO THE VIRUS, PLEASE BID ONLINE OR BY PHONE. PLEASE DO NOT PUT OTHERS AT RISK.
Remember there is 3 ways to buy other than in person:
1. Online with Proxibid - 2% premium This is the preferred method - you can watch it live online or place prebids and the system automatically bids for you up to your max. bid amount. Auctioneer does not see this bid only proxibid operator has this info.
2 Phone bids- 2% premium. You can call in the items you wish for someone to call you on when bidding is live. You must call or email us the following information by 5:00 p.m. Friday May 15 -us a good phone #, the lot number and starting bid of the items you want to bid on. We will do our best to have a ring man call you when the item comes up. If we can't reach you we can't bid for you.
3. Pre bids - come view the items before 5 p.m. Friday May 15 and leave us the lot #, a starting and max. bid on the items you wish to bid on and someone will bid for you.
All onsite buyers must make payment in full on auction day. All Proxibid, Phone bidders and Pre bidders must have payment in full in our office No later than 5:p.m. Wednesday May 20 or you may be charged a 10% late fee.
Payment forms are check with proper i.d., cash, wire transfer or credit card. Credit cards have a 3 % office charge.
Due to the extended pay period seller's proceeds will be mailed out on Monday May 25th.
If you have registered to bid with us in the last couple of years you have a permanent buyers number. If you need to retrieve it call in to the office at 325-451-4326 auction week and you can get it. New buyers can call or text 325-451-4326 to get signed up.
In the event we can not have onsite bidders we will not have any loading on auction day.
Lets hope all of the restrictions are lifted by then and we can go about business as usual, however we are trying our best to have an acceptable contingency plan to keep our community, customers and workers safe.
Please feel free to call with any questions or concerns.
Upcoming Auctions
May 16th, 2020
June 27th, 2020
August 8th, 2020
September 26th, 2020
November 21th, 2020
Auctions will be held approximately every six to seven weeks.
New commission rates effective June 1, 2019
All items $250.00 and under ---- 25%
There will be a minimum charge of $25.00 per lot .
Items selling for $ 251.00 and above --- 10%
$25.00 NO SALE fee per item
$25.00 Check in fee on Titled & License Receipt items. Title or License Receipt must be with item at check in. We do not offer motor vehicles for auction without a valid – transferable title. We reserve the right to hold sales proceeds until title work is correct or hold the item out of the auction. YOU CAN NOT BRING IN TITLES OR LICENSE RECIEPTS AUCTION DAY.
$25.00 Buyer fee on titled and license receipt items. Titles will be mailed to address provided upon registration. If you don't provide a good mailing address expect delays in getting your paper work. Titles are generally mailed out within 14 days after the auction.
$25.00 per day per item storage fee on purchases not picked up by 5:00 Friday following auction unless arrangements are made with Glen or Chase. Office staff and load out crew can not make these arrangements. Items left from previous sales will be re tagged and sold to highest bidder.
WE DO NOT PROVIDE PRICE PROTECTION. IT IS THE CONSIGNOR'S RESPONSIBILITY TO REPRESENT THEIR ITEMS.
CONSIGNOR CHECKS ARE AVAILABLE FOR PICK UP AFTER 1:00 PM WEDNESDAY AFTER AUCTION. CHECKS NOT PICKED UP WEDNESDAY WILL BE MAILED THURSDAY.
ALL ITEMS CHECKED IN AND PLACED ON THE LOT MUST GO THROUGH THE AUCTION. ITEMS MAY NOT BE WITHDRAWN AFTER CONSIGNED AND CHECKED IN.
Thank you for your continued support and business!